PEOPLELINK STAFFING SOLUTIONS WINS CLEARLYRATED'S 2020 BEST OF STAFFING CLIENT AWARD FOR SERVICE EXCELLENCE
Posted on

February 20, 2020

in News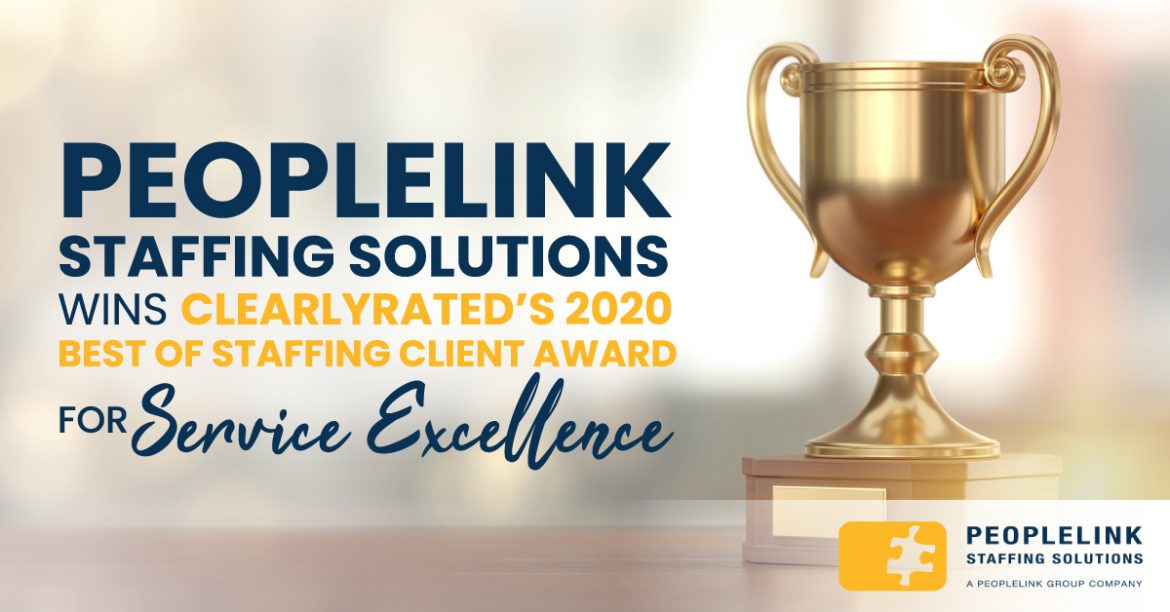 SOUTH BEND, IN – FEBRUARY, 2020 – Peoplelink Staffing Solutions, a leading staffing agency, announced today that they have won Best of Staffing Client Award for providing superior service to their clients. Presented in partnership with presenting sponsor, CareerBuilder, and gold sponsors Indeed and Glassdoor, ClearlyRated's Best of Staffing® Award winners have proven to be industry leaders in service quality based entirely on ratings provided by their clients. On average, clients of winning agencies are 3.3 times more likely to be completely satisfied with the services provided compared to those working with non-winning agencies. Peoplelink Staffing Solutions received satisfaction scores of 9 or 10 out of 10 from 70.1% of their clients, significantly higher than the industry's average of 24%.
"Within the Peoplelink Staffing family, we're committed to driving a customer-first culture. Our teams continually strive to earn client trust and confidence. We are honored our loyal customers and talent have recognized us amongst the best of the best in the industry through Best of Staffing," said Tara Burns, COO of Peoplelink.
About Peoplelink Staffing Solutions
For over thirty years, Peoplelink has been a cutting-edge leader in the staffing industry, placing more than 14,000 employees on job assignments each-and-every day. Founded in 1987 in Elkhart, Indiana, Peoplelink has become a nationwide workforce solutions provider with over 60 offices across the United States. Peoplelink's parent company, Peoplelink Group, has ranked 6 separate times on the Inc. 5000 list since its inception. In addition to Inc. 5000, Peoplelink Group ranks in at #45 on Staffing Industry Analysts' list of Largest Staffing Firms in the US, also ranking as the 20th largest industrial staffing firm in the US.
About ClearlyRated
Rooted in satisfaction research for professional service firms, ClearlyRated utilizes a Net Promoter Score survey program to help professional service firms measure their service experience, build an online reputation, and differentiate on service quality. Learn more at https://www.clearlyrated.com/solutions/.
About Best of Staffing
ClearlyRated's Best of Staffing® Award is the only award in the U.S. and Canada that recognizes staffing agencies that have proven superior service quality based entirely on ratings provided by their clients and job candidates. Award winners are showcased by city and area of expertise on ClearlyRated.com – an online business directory that helps buyers of professional services find service leaders and vet prospective firms – based exclusively on validated client and talent ratings and testimonials.