What to Do When Your Top Candidate Says "No"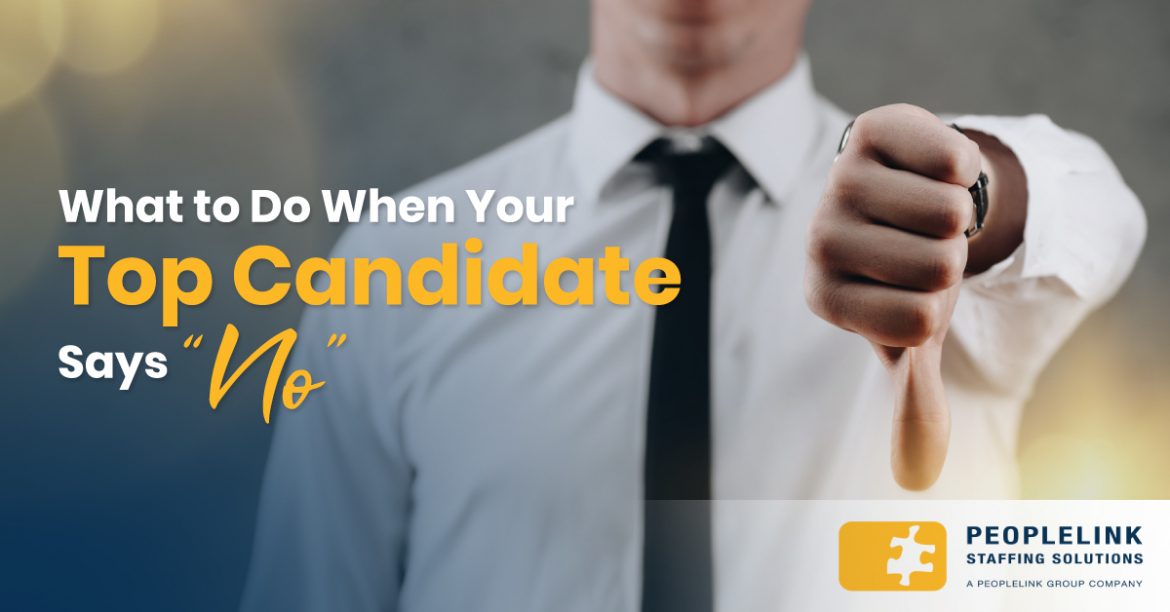 After an extensive search, you finally identify a candidate you want to hire. You extend the offer relieved that the search is over. Unfortunately, the candidate declines, and you are left frustrated and disappointed. Don't let this setback distract you from filling the open position. When your top candidate declines your offer, here are the next steps you can take to fill the needs of your company.
Don't Take it Too Hard
Several factors affect a candidate's decision to decline an offer. These can include competing offers, salary, benefits, and commute. It's important to remember the candidate isn't saying no to you, just the opportunity. Instead of reacting bitterly to rejection, refocus and outline a plan for continuing the search.
Consider Your Other Candidates
If you have another top contender who fell slightly short, act quickly to extend an offer.
Evaluate Your Hiring Process
Your hiring process may be flawed. Taking too long to make a decision and communicating infrequently or poorly can leave your candidates feeling neglected and inclined to accept an offer elsewhere. Streamline your hiring process to avoid losing top candidates in the future.
Start All Over Again
If you didn't have any close contenders, take time to reexamine your hiring process, make improvements, and begin again. Hopefully, you'll attract new talent and process improvements will increase the likelihood of offer acceptance.
Peoplelink's temporary staffing solutions
If you decide to completely re-start the candidate search, you may want to consider staffing a temporary employee to keep operations running smoothly and ease the burden on other employees. Peoplelink provides personally interviewed and tested temporary employees. Our total workforce solutions include temp-to-direct, contract staffing, direct staffing, payroll, and both on-site and recruitment outsourcing. If you're ready to get started, contact Peoplelink today!